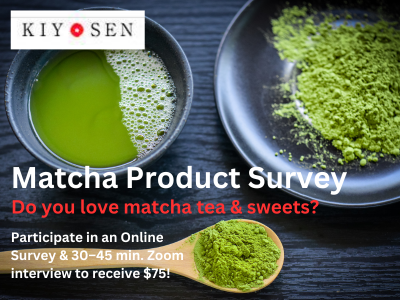 Thank you for your interest in our online survey and Zoom video interview!
We're looking for matcha enthusiasts that love all things green! Whatever way you like to enjoy your matcha, as a tea, in a latte, or in sweets, we'd like to hear from you!
Survey Participation Details
For just over an hour of your time, we would like to offer you $75 (sent via PayPal). This research is being conducted for Kiyosen.
Your feedback would be provided in two stages:
A 15-minute survey that you can fill out at your convenience

A 45-minute Zoom video interview that will be scheduled after you submit your survey answers
Timeline
If you are selected to participate, we will contact you between April 10–13 and provide you with an online survey link for you to fill out.
Once we receive your survey answers, we will schedule a time with you to have a follow-up Zoom video meeting to learn more about the answers you provided.
Important: All information you provide will be kept confidential and will not be shared with the public, and it will not be given or sold to anyone. It will strictly be used for internal research purposes only.
Payment
After completing the Zoom interview, we will process your $75 payment within two business days using the PayPal email you provide.
Please note that we are only able to make payments through PayPal.
We have limited spots available. Click the button below to register for your chance to participate and receive $75 for your time!


Who Is Conducting this Survey and Interview?

Kiyosen started its mail-order business in 1955, before establishing the Kiyosen Co. Ltd. when becoming officially accredited as a tea appraiser in 1997. They provide Ujicha, known as the best Japanese tea, to the world.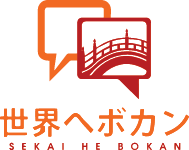 Sekai He Bokan is an international digital marketing consultancy based in Tokyo that provides web marketing and consulting services to Japanese companies looking to expand into international markets.